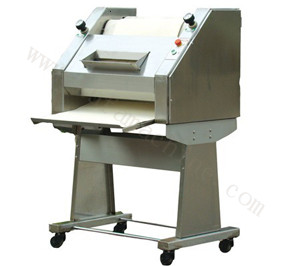 Baguette Line can produce French bread and other narrow bread. Putting the divided dough into Baguette Forming Machine to form baguette bread after the first laminating and wrapping, and then extending the dough loaf with two opposite-direction belts. Next to ferment baguette dough loaf to a degree of expansion in Fermenting Machine. Finally bake bread in rotary oven and cool bread on cooling cracker.
Manufacture Process: Dough mixing→ Dough dividing→Baguette forming→ Fermenting → Baking→ Cooling.
All equipment of this kind of bread line are small and light, simple and artistic. In addition, the rolling cylinders of Baguette Forming Machine are made of non-toxic material, and other equipment stainless steel. Thus, our products are complied with the high health standard of the food machinery field.
| Product | Baguette Line |
| --- | --- |
| Bread Type | French bread; Narrowed bread |
| Weight of bread | 50-1000 grams |
| Capacity | 1200pcs/h depending on weight and dough quality |
| Voltage | 380V, 50Hz |
| Material | Stainless steel is the main material |