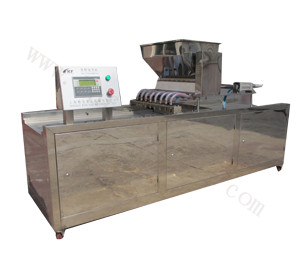 Semi-automatic Cake Production Line
Semi-automatic cake production line is composed of Mixer, Cake depositor, Rotary oven(with trolleys and trays), Cream filling machine, UV sterilization conveyor, Packing machine, Nitrogen generator, Oil free air compressor.
Both cake depositor and cream filling machine have adopted computer programming and photoelectric tracking. They are driven by air cylinder. And rotary oven is an ideal equipment. With hot air circulation and rotated trolleys, it can bake cakes evenly.
The whole line can produce different types of cakes, such as Muffin, Cup cake, Custard cake, Madeleine etc..
1. Manufacture Process:
Mixing→ Depositing→ Baking→ Cooling→ Cream Filling→ Sterilization→ Packing
2. Related Equipment:
1). Mixer: Mix liquid raw materials like egg, flour, or cream.
2). Cake Depositor: Extrude mixed materials into the trays.
3). Rotary Oven: For baking cakes, three types are available (Electric/Diesel/Gas).
4). Cream Filling Machine(Optional): Fill cream or jam inside each cake.
5). Sterilization Conveyor: UV Lights kills harmful bacteria and microorganisms effectively, to prolong the self life of cakes.
6). Packing Machine/Oil-free Air Compressor/Nitrogen Generator: Fill Nitrogen into the pack bag in order to isolate cakes from air.
2. Technical Parameters:
| Product | Semi-automatic Cake Production Line |
| --- | --- |
| Capacity | 100kgs/h, 200kgs/h, 500kgs/h |
| Cake types | Muffin, Cup Cake, Custard Cake, Madeleine |
| Baking Type | Rotary Oven(electricity/gas/diesel) |
| Labor Quantity | 6 workers |
| Workshop area | 200㎡ |