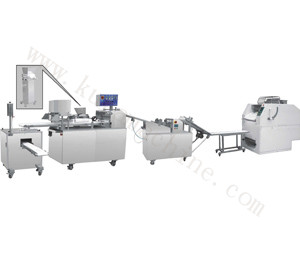 Steam Bun Line is one distinctive multi-functional steamed food production line in China. This kind of equipment can produce various steam buns with different flavors and technologies. It is an ideal equipment to enrich the kinds and flavors.
The whole line is of high automation, high efficiency, low energy cost, and producing food with average size and weight, bright appearance, and good shapes. And with the development of the economic globalization, our Chinese cooking culture has been welcomed by the world. The multi-functional Steam Bun Line is more and more liked by people from many countries because of its advantages and great Chinese cooking culture influences to the world.
The main parts of the line are: Spiral Mixer, Dough Pressing Machine, Mainframe, Blade Cutter Machine, Arranging Machine, Fermenting Machine, Steamer, and Packing Machine.
1. Manufacture Process:
Dough Mixing →Dough Pressing →Bun Forming →Arranging →Fermenting →Steaming →Cooling →Packing.
2. Technical Parameter
| Product | Steam Bun Line |
| --- | --- |
| Bun Kinds | Twisted Bun, Yolk Bun, Bean Paste Bun, Double-color bun, Peach Bun, Sliver Thread etc. |
| Bun Weight | 15-25gs/piece |
| Capacity | 500-1200pcs/h |
| Material | Food grade special material, Stainless Steel |
| Voltage | 220V/380V, 50Hz/60Hz |